Clothing Care Labels
General
Tips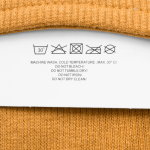 Various processes can be used to clean clothes. The basics are hand washing, machine washing, and dry cleaning. It is important to follow your clothing care label to prevent otherwise avoidable damage. Hand washing involves soaking the item in water and detergent to gently remove soils from the fabric. This method is very restrictive and has little or no agitation. Machine Washing garments are cleaned in a machine with water and detergent. This is the most widely known method for household laundry.... View Article
---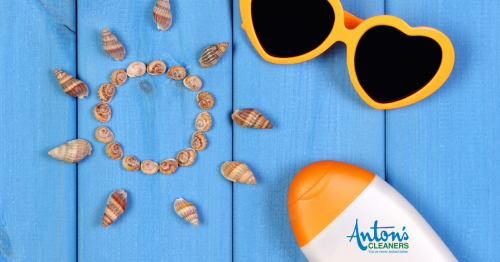 It's officially summer – which means it's time to lather up, jump in and enjoy the warm weather. This time of year is notorious for introducing many additional products to our daily routine that can damage clothing items. Here are some quick tips to minimize damage: Antiperspirant Potential Problem: Build-up from deodorant and antiperspirant products can cause fiber damage and yellowing. Blue and green silk and wool are particularly prone. Aluminum chloride can weaken fibers in cotton, linen, rayon, and... View Article
---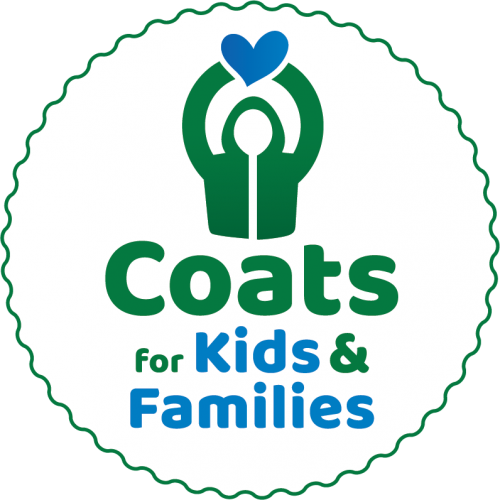 In New England, a good winter coat becomes an everyday staple of our wardrobe. It's important to keep your coat looking its best by ensuring proper cleaning, storage, and care for it over time. Here are a few simple tips on how to properly care for your favorite coat: When cleaning your coat, follow the care label for the manufacturer's instructions. Be sure to immediately treat any stains by blotting the stain (never rub the stain). The longer dirt or... View Article
---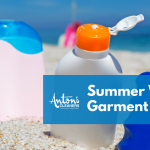 With summer comes an environment that promotes perspiration and a set of seasonal products that can damage clothing. Here are some quick tips to minimize damage: Antiperspirant/Deodorant:  Potential Problem: Build-up from deodorant and antiperspirant products can cause fiber damage and yellowing. It can also weaken fibers in cotton, linen, rayon, and some synthetic blends, leaving holes during cleaning. Clothing Care: Avoid overuse and allow antiperspirant/deodorant to dry before dressing. Soiled garments should be washed or dry cleaned as soon as... View Article
---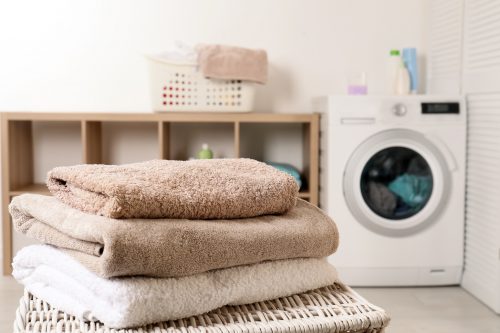 One of the world's biggest soap manufacturers, Procter & Gamble, says many people do their laundry incorrectly by not sorting loads, overloading machines, and washing clothes too often. Americans spend more time doing laundry than 50 years ago, but research shows the clothes are coming out less clean and more worn than elsewhere in the world. The Procter & Gamble study found the average American did laundry nine hours per week. This phenomenon is likely due to the singular wearing... View Article
---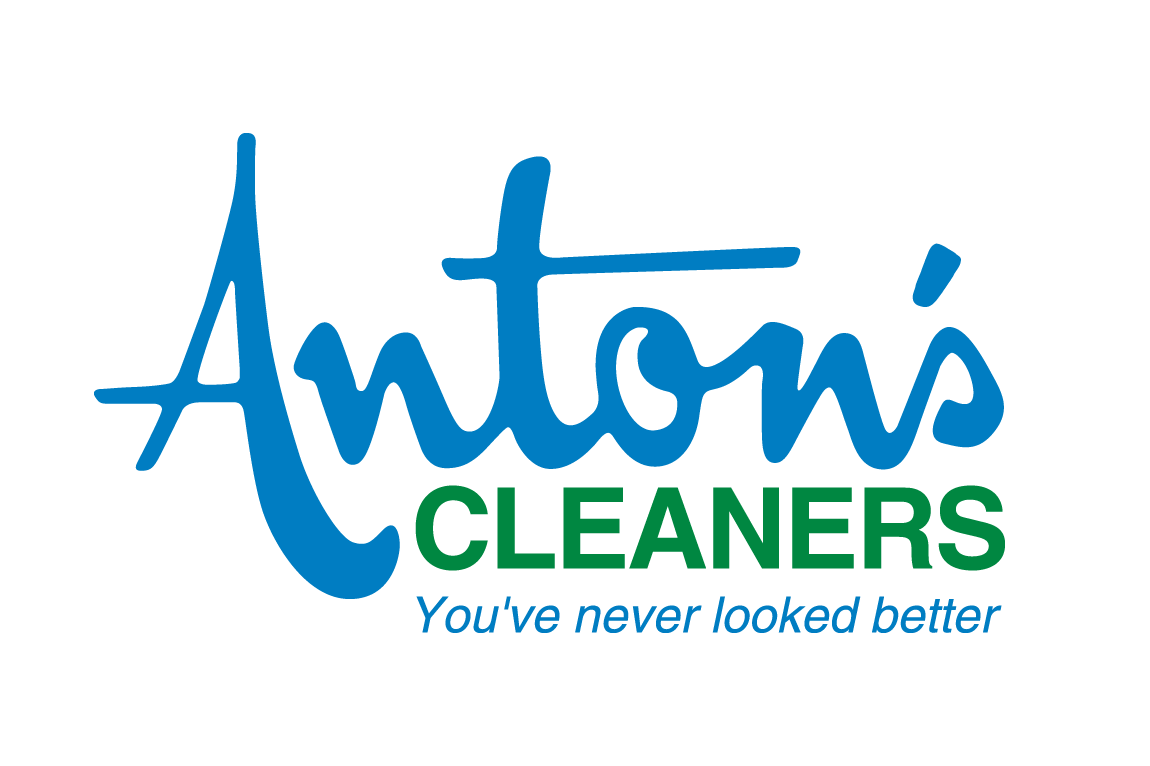 "It seems every time I look at a care label, there's a different symbol. How can I figure out what they mean? Also, if the label says 'hand wash' do I really have to hand wash the garment?" A. Care labels can be a pain in the neck, both literally and figuratively, but they have important information about the processing of your garments. Click here to see the care label chart that translates the symbols into plain English. By the... View Article
---

For additional symbols click here.
---
Learn what clothing care labels mean with Arthur Anton, Jr.
---
Video
Tips
Clothing Labels
Learn what clothing care labels mean with Arthur Anton, Jr.
Clothing Care Labels
Questions
"It seems every time I look at a care label, there's a different symbol. How can I figure out what they mean? Also, if the label says 'hand wash' do I really have to hand wash the garment?"

A. Care labels can be a pain in the neck, both literally and figuratively, but they have important information about the processing of your garments.

Click here to see the care label chart that translates the symbols into plain English.

By the way, there's no need to stand over the sink – we can beautifully wet clean your hand washables. At Anton's, we wet clean over 50% of all garments with a non-toxic water-based cleaning process that uses computer-controlled washers and dryers, specially formulated detergents and specialized finishing equipment.

As always, if you have any questions, we are here to help.

"I have a women's three piece suit and each piece has a label that reads '100% BRT & dull.' What's that mean? The care instructions say 'Do not bleach, dry clean only."

A. BRT and dull are terms used by yarn makers and have nothing to do with fiber content. BRT and dull mean the brightness and dullness of synthetic fibers. For example, Nylon F. textured yarns used for weaving can be purchased as SD (semi-dull) or BRT. Spandex yarns can be SD or BRT for use in stockings, foundation, swimwear, and fashion wear.

"When the clothing care label sewn into a garment says "washable," does this mean it cannot be dry cleaned?"

A. Not necessarily. The Care Label Rule states that only one suitable method of care must be on the label. Cleaners usually follow the care instructions, unless otherwise requested. If you want your washable items dry cleaned, a cleaner may ask you to sign a waiver.

"Is it safe to wet clean a garment with "Dry clean only" care instructions?"

A. When determining if a garment can be safely wet cleaned, the cleaner will look at the fiber content, fabric construction, colorfastness, trims, and other components such as interfacings and linings.

"I ordered a garment from a catalog and was surprised when I read the care label that it was actually quite difficult to clean because some of the trim requires special cleaning. What do you suggest?"

A. You're not the first one to encounter this problem. Catalog shopping is wonderful, as we all know. But when buying clothing, it's a good idea to ask for care label information before you place the order. And when you receive the garment order, make it a habit to read the care label before wearing it. If it's not what you expected, you can return it without a problem.

"The care instructions on my imitation fur coat say that it should be cleaned by the Pile Fabric Method. What does that mean?"

A. A professional dry cleaner recognizes those instructions as a set of procedures to follow in cleaning imitation fur coats and the imitation fur trimming on non-fur garments. Unless a cleaner follows the prescribed Pile Fabric Method procedures completely, the garment may be damaged. By the way, the Furrier Method cleans real fur garments.

"The care label on my favorite summer dress says 'Do not dry clean'. I am nervous about washing the dress myself. What can I do?"

A. "Do not dry clean" does not mean that a drycleaner cannot clean your dress. Drycleaners launder clothes (wet cleaning) as well as dry cleaning. Wet cleaning is a process that uses water as the solvent, but that is were the similarity with home washing stops. In wet cleaning each garment is analyzed to select the appropriate water temperature, agitation, chemistry and drying process. Not all drycleaners wet clean garments; at Anton's we have the necessary equipment and training to properly wet clean garments.