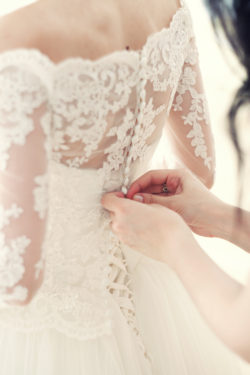 We clean, press, and preserve wedding gowns.
Give your gown a life beyond the big day.
At Anton's, we want our brides to look picture perfect, and wrinkle-free!
Looking to have your gown cleaned and pressed before the wedding? Need to preserve it after the big day? Anton's has you covered.
Our wedding gown specialists will carefully examine every detail of your gown to determine the best cleaning method.
Our preservation process protects and guarantees against oxidation (yellowing), leaving your gown looking as good as new. Your gown is carefully sealed in an acid-free inner box that controls humidity. The oxygen is purged and replaced with an inert gas, virtually making oxidation impossible.
Our sealed packaging also allows you to view your gown (and veil) at any time. You can feel good knowing that the packaging will protect against mold, mildew, insect damage.
Wedding gown cleaning and preservation is available in all of our stores. For a full list of Anton's locations, click here!
Have a question about wedding gowns? Email our COO, Arthur Anton, Jr., directly.