April 23, 2020 2:02 pm
Why is Anton's Cleaners an essential business?  Because the Center for Disease Control (CDC) states that garments and bedding must be cleaned at a temperature "above 167° F" in order to kill a virus.  Home washers and dryers cannot exceed 135 degrees.
At Anton's, we use high-temperature steam (upwards of 300 degrees) as a standard part of our finishing process – effectively sterilizing without damaging your fabrics.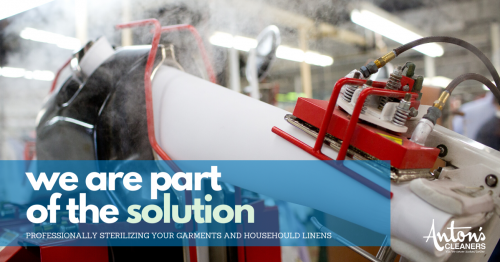 The CDC confirms that the coronavirus can remain active and contagious for hours to days on a variety of materials, including clothing. In addition to fabrics, the National Institute of Allergy and Infection Disease notes that COVID-19 remains active for extended periods of time on stainless steel, cardboard, and copper.  These materials are often used for buttons, zippers and other high touch components of garments.
So if you and your family are:
Still wearing clothing and outerwear
Occasionally going out to pick up supplies
Sleeping on sheets and under blankets every night
Starting your spring cleaning
Let Anton's help you reduce the risk of virus transmission by sterilizing your garments and household items.
Anton's offers a variety of services to keep the safety of our customers and employees a priority.
As a family owned and operated business for over 100 years, thank you for supporting us during this challenging time. We are proud to continue offering services aimed at keeping our community and customers safe.
For regularly updated information about steps Anton's is taking to address COVID-19 concerns, please visit our COVID-19 message to customers, or contact our corporate office at (978) 851-3721.