January 27, 2022 11:59 pm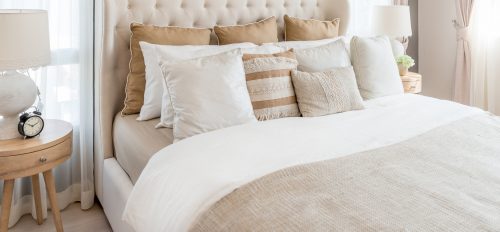 You can typically expect comforters and bedspreads to last five and six years depending on use and care.
A bedspread is an outer covering for a bed that goes over the sheets and blankets. It is usually a decorative component of the bed set.
A comforter is a quilted bed cover that consists of an outer face fabric, a center batting (usually a fiber mat or down), and a backing fabric. These three layers are held together with a stitched pattern or simulated stitching. The comforter may be used for decorative purposes, like a bedspread, or in place of a blanket.
Unlike clothing care labels, which provide instructions for how to properly care for the garments, the Federal Trade Commission's Care Label Rule does not require permanent labels on home furnishings fabrics. Most bedspreads and comforters are sold with care instructions on a hang tag, a temporary label or on the packaging.While bedspreads and comforters are often long-term purchases, they can be subject to many problems in use and care.
Possible problems include:
Stains: Stains can occur from spillage or contact with various substances in use. Once they have contacted the fabric, they may be difficult to remove. Type of fabric, age of stain, and multiple thickness of bedspreads and comforters can make stain removal a challenge.
Color loss: Cleaning may cause color loss. All coordinating pieces should be drycleaned or laundered at the same time and with the same process to prevent color variances within the set.
Shrinkage: Shrinkage of 2 to 3 percent (or more) can occur if the fabric is not preshrunk. This may cause a poor fit or appear much too small.
Improper construction: If comforters are not quilted with closed channels or pockets, the filling material can shift in cleaning and use. Proper construction helps prevent shifting, fabric tears, and uneven appearance.
Stitching under stress: Stitches could break during cleaning if quilting lines are more than eight to 10 inches apart. They may also break if the stitching thread was damaged in use or if the stitches are not secured properly at the end of the quilting line.
Preserving Your Household Textiles
To protect and prolong the beauty of your household textiles remember these basic tips:
Protect all furnishings from sunlight and pets.
Damage, like tears, should be repaired immediately.
Vacuum and/or brush to remove dust regularly.
Follow the manufacturer's cleaning recommendations.
Do not allow the item to become extremely soiled, and have any stains removed immediately.
Do not store household textiles that are not clean and stain free.
While Anton's is known as clothing care experts, we also know a thing or two about household textiles. In addition to bedspreads and comforters, we clean draperies, blankets, slipcovers, sheets, and heirloom textiles.
To help extend the life of your bedspread, comforters, and household textiles, let Anton's professionally care for your items. To find a location near you, click here.