March 30, 2020 11:59 pm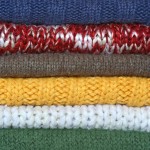 Spring is here, many of us can help but think of putting away our bulky winter coats, sweaters, and down comforters for the year. Now is a great time to begin storing winter items and free up space in your closets.
Here are few simple guidelines to follow when storing your wardrobe:
Wash or dry clean your clothes before storing them for the summer. Even if your clothes were worn once, human skin can leave residue in the material that can damage your clothing and make it more attractive to bugs.
Be particular about the storage container.The storage container should allow for circulation of air through the clothing. Popular storage containers include rattan trunks, or textile bags. Refrain from storing your clothing in plastic bags. Natural materials eed to breathe. Opt for a well-ventilated container and store items flat. If you must hang these items, pad them with tissue paper.
Choose a place to store your winter wardrobe that is dry and cool, this will help to avoid mildew. Avoid using silica, mothballs, or crystals, as they often emit strong smells, can be harmful for both you and the environment, and may make it difficult to remove the odor even after cleaning.
Refrain from stretching, bending, or twisting fabrics when storing clothes. Any folding or twisting could damage your clothes and destroy their shape, especially in a vacuum storage bag.
Care for speciality items:
• Furs: These garments should be hung on a well padded hanger and placed in a cool, dry space. Covered furs with a breathable textile.
• Leather: If you haven't cleaned your leather, leather wax can help protect the garment and refresh it for next winter. Use this same method for leather shoes.
Need more storage space?
Regardless of how much storage space you have, it never seems to be enough. That's why we'd like to introduce you to Anton's Closet. We clean your garments and household items; place them in our dust-free, temperature-controlled facilities where they will stay until you let us know you want them in the fall. The service is free – all you pay for is the cleaning.
Just pick-up Anton's Closet chests (they're free!) at your Anton's store, fill them with your winter clothes and household items and give yourself more closet space.