March 31, 2020 11:59 pm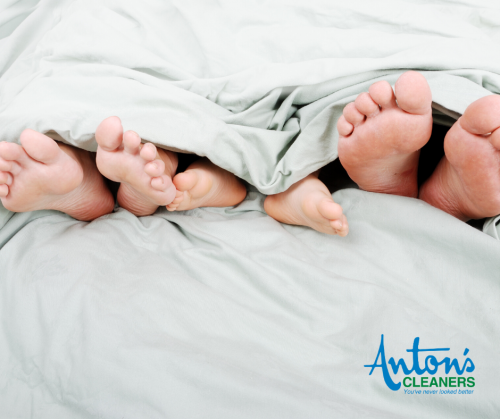 As many of our customers adjust to life at home and start their annual spring cleaning, we find ourselves answering questions about how to properly care for household linens. As with garments, it is important to have your household items cleaned according to the care label and avoid over-stuffed washing machines.
Anton's Cleaners is committed to helping reduce the spread of disease in our community and safeguarding our customers by sterilizing your garments, bedding and other household items. Our cleaning process naturally sterilizes, killing most bacteria and viruses. Anton's is happy to help you take your cleaning to the next level.
Sheets
You and your family sleep on sheets every night, need we say more? Sheets should be cleaned weekly. It is important to stay on top of your cleaning routine, which is why we suggest having an extra set of sheets and pillowcases on hand to swap out during cleaning.
Whether you wash your sheets at home or send them in to be professionally laundered and pressed, there is no better feeling then slipping into freshly cleaned sheets. With any item, make sure to read the care label and use the hottest temperature listed, this will help fight any lingering germs.
Blankets
Blankets should be cleaned before storing in the spring. Soiled blankets placed in storage attract insects and stains can set, weakening fabrics.
Cotton and synthetic blankets generally can be washed and dried. A fabric softener may be used to help reduce static cling and keep the blanket soft.
For wool blankets, you'll want to consider dry cleaning. If washed, wool blankets can experience shrinkage and lose their shape and softness. Shrinkage of a wool blanket that has been improperly cared for is generally irreversible. Dry cleaning is the best approach to maintain original size, shape, feel and appearance.
Comforters/Bedspreads/Duvet covers
Most people clean their comforters or bedspreads once a season (more depending upon use). If you use a duvet cover, you may not have to clean your comforter as frequently.
Some problems that can occur when cleaning comforters or bedspreads are shrinkage, color loss, dullness, and tears. You can avoid some of these issues at the time of purchase by checking to be sure that the bedspread has been preshrunk and that down or fiber-filled bedspreads are well quilted.
Before cleaning, inspect the comforter or bedspread for rips, tears and weak areas. These articles become quite heavy when immersed in solvent or water and during cleaning these weak areas can enlarge.
It is recommended that you clean or launder all matching and coordinated items (shams, dust ruffles, curtains) at the same time. This helps to ensure that any color or sheen loss is uniform.
Be sure not to over-stuff your home washer. Comforters, especially queen or king size, typically need professional grade equipment for proper cleaning. A washer that is overstuffed will not properly clean the large items.
If you're left wondering how to care for your comforter, bedspread, or duvet, bring it to Anton's. We'll have it professionally cleaned, sanitized, and ready for spring!
Draperies
Draperies are susceptible to a wide variety of problems, ranging from shrinkage and fading to stains and abrasion damage. Too often we only think of cleaning draperies after they've been framing our windows for a few years. Sometimes problems can develop over time while they are just hanging there, doing their job of beautifying our homes.
How long drapes lasts depend on the fabric type and density, finishes, window location, and length of use. But it also depends on their selection and the care they receive.
To protect drapes against yellowing due to excess staining and soiling, clean the drape at least once a year. It is best that you have your drapes cleaned by a cleaner who is experienced in the cleaning of drapes and is knowledgeable in drapery problems.
Storage
Finding appropriate space to store bulky comforters, bedspreads or blankets can be difficult. Items need to be properly cleaned before storing in a dry, well-ventilated area that does not have direct exposure to sunlight or artificial light. Consider trying our Anton's Closet where storage is in a temperature-controlled facility.
You pay only for the cleaning and your household items are safely stored for the season. Click here for more information.