September 28, 2015 3:48 pm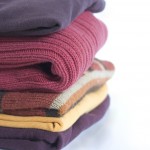 New Englanders know colder weather is on the horizon. Sweater season will be in full effect and you want to make sure that these garments are well cared for to ensure a long shelf life.
Since hanging sweaters can cause them to lose shape or stretch, the best way to store sweaters is to fold and place on a flat surface, such as a drawer or closet shelf. To avoid wrinkles or bulges, you'll want to be sure to fold them properly.
Let me show you the best way to fold a sweater in our special video tip below. Your clothes will never look better.