January 18, 2013 8:25 am
By Mary Lou Andre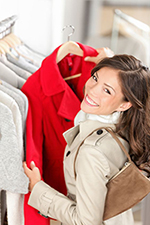 Now that the holidays have come and gone, coat departments, from moderately priced chains like JC Penney and the Gap to high-end stores like Barneys and Saks Fifth Avenue, have been transformed into a sea of sale signs. If you are in need of a winter coat to get you through the rest of the winter months, now is the time to act. Here are five tips to help you navigate winter coat racks this season:


Think Fabric. All wool coats are not created equally. Yes, 100% cashmere coats are king, but even a small percentage of cashmere blended with other wools will give a coat more luxury and longevity. Avoid a large percentage of nylon blended with wool. The nylon (a man made fabric) can start showing through the wool in just a few seasons, making it look worn and old. Nylon in wool also contributes to that annoying "scratchy" and "stiff" feel. No matter what type of wool you choose, be sure you always have them professionally cleaned at a reputable drycleaner like Anton's.
Consider Length & Shape. A coat that falls from mid-thigh to the knee tends to be the most versatile length, as it can work over pants, jeans, and skirts. Full length coats that aren't fitted at the waist can look frumpy, especially on women. Any length coat with a shaped waist will typically flatter both petite and full figures. No matter the length, a trench coat with a zip or button out lining can work in all seasons and climates and might be the only coat you need!
Study the Details.While sleeves should cover your wrist bone, they should not wander too far down your hand. In order to be useful, pockets should not be too low or too high. In addition, you don't want pockets to appear in places that don't work with your figure. Buttons should be sewn on tightly and extras provided. If you love the way a coat fits but don't like the buttons, they can be easily replaced. Anton's is happy to tighten up the buttons on your coats when they come in to be cleaned.
Punch It Up. Hats, scarves and gloves give basic outerwear signature style. If your coat closet tends to be full of dark neutral colors, add some brighter coat accessories to beat the cold weather doldrums. Cobalt blue, fuchsia and bright red look especially crisp and fresh in the winter months and can do wonders for your psyche. /li>
Take it for a Test Drive. Finally, before purchasing a coat, try it on wearing what you plan to wear under it. You'll also want to button or zip it up and hug yourself to ensure it fits properly. "Steering wheel" and "jump rope" tests (yes, you act out both movements while in the coat to ensure mobility!) are also good indicators of fit.