July 31, 2012 11:59 pm
By Mary Lou Andre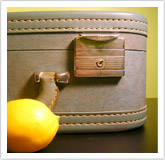 With many New Englanders taking vacation time this month, here are seven fresh ideas for adding ease and style to your summer travel wardrobe:
Create A Weekend Getaway Tub. If you travel a lot in the summertime, having a plastic tub filled with your favorite traveling outfits and toiletries is a great way to stay organized. If you travel locally, take the tub with you in the car. If you are traveling by plane or train, pack your suitcase from it. At the end of the season, store the tub and all of its contents in an out of the way place. Added Bonus: If a winter trip… to a warm climate presents itself, you'll have a head start on packing for your adventure!
The Versatile Navy Blazer. Summer dress codes for both business and social events can be hard to interpret, especially in the warmer months when people tend to dress more casually. Men, you can't go wrong traveling with a light weight navy blue blazer. Dress it up with a dress shirt and tie when the occasion calls for it. Dress it down by wearing it over a polo shirt and pair of khakis when you need to be pulled together yet not over dressed.
Twin Sets Offer Temperature Control. Twin sets (i.e. cardigan sweaters with matching shells) are great traveling companions for women. When it's cool (i.e. on the plane, at a restaurant or other air-conditioned venue), the set provides more coverage and therefore more warmth. When the temperature soars, the shell might be all you need. Three-quarter sleeve cardigans are also a great way to make sleeveless sundresses and tops more appropriate for professional and social events that require more coverage. Added Bonus: Twin sets are amazingly easy to pack!
Stick with Neutrals. White, khaki, olive, brown and black all look fresh when worn together in the summer and can be mixed and matched effectively while on the road. Men, a white oxford shirt with a light wool olive pant with a brown or black summer loafer is much cooler looking than a darker colored dress shirt, dark pant and wing tips. A navy blue blazer easily works with this combination too when you need to be jacketed yet not suited. Women, animal print shoes and bags go with all these neutrals and can keep your style quotient high on the road with little effort.
Add Color Strategically. If you want to add more color to your travel wardrobe, pick one color in the same tone as an accent. Women, an easy way to use this trick in the summer months is to pack all black and white base pieces (i.e. pants, shorts, skirts and jackets) and then add tops, jewelry, shoes and belts in your "signature" color. Red, turquoise and coral are popular signature color choices in the summer months.
Don't Write Off Linen Completely. If you love linen but find it to be too high maintenance on the road, there are some tricks to making linen a better travel companion. First, look for linen blends – fabrics that combine linen with other fabrics such as rayon to keep wrinkling to a minimum. Second, ask your Anton's customer service representative to use extra starch when they launder your linen pieces. Your linens will be a little stiff when you first put them on, but as you wear them, they will relax a bit and hold up longer. Finally, carefully fold your linens into Anton plastic dry cleaning bags before packing them. Of course, whenever possible, transport your linens in hanging garment bags.
Freshen Up Tees and Polos Early in the Season. Finally, taking the time to freshen up casual tops such as polos and tees is time well spent if you travel a lot in the summer and value a crisp, clean look on the read. Women, when you find that perfect tee, buy three in white and three in black You won't regret it! Men, colorful polos over fresh khaki pants and shorts are the way to go in the summer.
Final Thought
The more organized you are at home, the more organized you'll be on the road. Creating a packing system each season and loading up on versatile clothes and separates is the way to go to maximize your traveling enjoyment.