June 29, 2012 11:59 am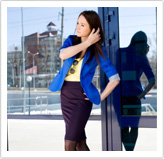 In the summer months, many companies allow employees to dress more casually. While many professionals welcome the opportunity to shed more formal business attire and be a bit more relaxed in their appearance, many are unsure of where to draw the line.
Here are five tips for cracking the summer dress code while maintaining a professional image that won't cost you your reputation (or your paycheck!) this summer:
Think business first, casual second – "Business casual" is actually an oxymoron. No matter the weather, you are wise to think business first, casual second – or never, if that is your preference. Women, light-weight career separates with conservative necklines and hemlines coordinated with equally professional footwear, tops and accessories are the way to go in warm weather. Men, short-sleeve polo-style shirts and light weight dress slacks will get the job done in business casual settings.
Know the code – Before hitting the mall to add some new summer items to your wardrobe, read your office dress code closely to be sure what you select is appropriate for where you work. For instance, many companies frown on any type of sandal being worn to the office, even if they allow more relaxed clothing. Be a conformist in a good way by selecting clothing and accessories that honor your personal style while giving you professional clout with the powers that be.
Partner with your drycleaner – Summer fabrics can go limp fast if not laundered and ironed properly. Save yourself time and energy while giving your wardrobe a professional boost by having extra starch added to your shirts and linen slacks, tops and skirts by a reputable drycleaner. Even khaki pants and polo shirts look more crisp and professional when handled by a professional cleaner. When you invest in the care and maintenance of all your professional clothes, they work extra hard for you.
Get Groomed – Don't let your personal grooming routine go on vacation while you're still expected at work. Showing up to any professional business engagement unshaven or with wet hair can signal that you are unorganized, lazy or lack common sense. Likewise, toenail polish that matches your bathing suit can call unnecessary attention to your feet even if you have a dress code that allows for open-toe shoes. The best part about personal grooming – it doesn't have to cost a lot and allows you to show respect for yourself, which instantly shows respect for others.
Be consistent year-round – Finally, no matter your work style (or the time of year), there is a lot to be said about being consistent. Anchor yourself into a stable image that represents the most capable image of you every day of the week. You'll brand yourself (as well as the company you represent) as reliable, a team player and serious about getting your job done. Work doesn't stop in the summer months. Your professional image shouldn't stop working for you either!