May 2, 2012 11:46 am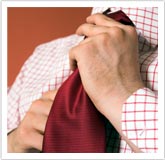 How you choose to dress each day shapes both your own mindset (how you feel about yourself) as well as the reaction of others to you. In a job interview, how you package yourself is extra important. You want to instantly be perceived as competent and confident.
In honor of all the soon-to-be college grads in our midst, here a few of our best wardrobe tips to help land (and keep!) the jobs of their dreams. Please share them with a young person in your life (and/or use it to give yourself a dressing well refresher course!) Wherever you are in your life, we hope some of these tips resonate with you:
Suit Up – With today's more casual workplace rules, many people want to know if they still should wear a suit to the interview. In most fields, the answer is yes, especially for that all-important first interview. When you show up suited, it tells people that you understand job interview etiquette and want to be taken seriously right away.
Relax with Thought – If you are told that you don't need to wear a suit for the second interview, listen and adopt your dress code carefully. For men, we suggest a blazer with well-coordinated dress slacks along with a dress shirt with or without a tie – your call. For women, we also often suggest a blazer with well-coordinated business separates – pants, skirts and tops with conservative necklines – you get the idea!
Add Color Appropriately – While dark suiting is the standard for job interviews (it projects more authority and can be price-neutral if you are on a budget), don't be afraid to add color to your interview ensemble – especially when interviewing in creative and less formal industries. Dress shirts, blouses and other professional tops are the easiest and less risky way to do this. Pick hues that compliment your skin tone and personality and make you feel your personal best.
The Details Matter – How you coordinate belts, shoes, socks, hosiery and totes is significant. And don't skimp on alterations. Sleeves and hems should be the correct length. Be aware that less is often more in terms of accessorizing — you don't want to create unnecessary distractions. These types of details send subtle yet very significant messages about your attention to the small things that matter a lot in today's competitive business arena.
Don't Let Outerwear be an Afterthought – You are often wearing outerwear when you first meet someone. Make sure yours stands out in only the best way. A trench coat and a well-maintained tote are essential finishing pieces for most business outfits, especially when interviewing.
Last Word
We all have a tremendous amount of control about how first impressions are formed about us. Like a resume, your interview attire should be part of your overall game plan and not neglected or ignored. Carve out the time early in the job interview process to be sure you have the right look for the job you want. Of course, partnering with a reputable drycleaner like Anton's is also a smart career move. When you invest in yourself, you invite others to invest back in you.