May 31, 2012 10:45 am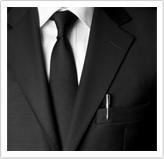 In celebration of Father's Day this month, here are 5 practical style strategies to help the men in our midst up their style quotient:
Be Prepared with a Suit – Even if you work in a business casual environment, there is still room in your wardrobe for at least one good dark neutral suit that fits you well at your current weight and makes you feel your personal best. Life happens – weddings, funerals, job interviews and the like. Don't comprise the power of being properly attired when it might matter most for you and the people you love.
In Praise of Sports Coats – With or without a tie, an updated sports coat can up your style quotient like no other garment. While a navy blue blazer is a staple in many men's wardrobes and can come in handy when dining in a jacket-required establishment, attending a graduation or other family obligation, there are so many other blazer choices available today that offer a more sophisticated approach to style. Subtle textures, unexpected colors woven into the fabrication and interesting button and pocket placements can all go a long way to increasing your personal and professional presence.
Get Measured – Dress shirts are often called the centerpieces of a man's professional wardrobe. When they fit well, are properly pressed and paired with the right ties, trousers and jackets, the wearer stands out in all the right ways. Interestingly, over half the men we work with either never been properly measured to determine their correct dress shirt size or are relying on old measurements that are no longer accurate. They settle for less than perfect fitting shirts that can undermine an otherwise impeccable approach to style. Once you establish your "real" shirt size (yes, that means getting measured!), search for brands that fit you well and become loyal to them. This will cut your shopping time in half. Your fashion confidence will also soar!
Move Beyond White – Speaking of dress shirts, most male closets contain a large variety of white dress shirts, some are new and fresh, others are over 20 years old with an equal amount of mileage showing all over of them! Vow to ditch the dress shirts that no longer fit, are stained and/or you don't have a need for if your dress code has become more business casual over the years. When you stock up on new dress shirts, move beyond white. Blues in a variety of shades are a great first choice when adding color. Yet, don't stop there. There are so many different colors available today (lavender, peach and yellow to name a few) that add a fresh and appropriate amount of color to dark neutral suiting, even for men working in conservative industries. Of course having your shirts laundered by a reputable drycleaner such as Anton's is a smart way to be sure you always look your personal best.
Be Bold with Beige – Many men stick to dark neutral suits, jackets and pants for good reason – they hide wear and tear better than lighter choices, are more slimming and can be easier to mix and match. However, a beige suit in warm weather can be a real stand out fashion choice as long as it is well coordinated and works with your complexion. Try it with a peach dress shirt and brown shoes and a brown belt. Add a tie that pulls in the brown and beige while complimenting the peach and you'll have a winning look!
Last Word
Finally, our message for men would not be complete without a word about shoes and socks. For many men, shoes are an afterthought, but cheap or unkempt shoes can ruin an otherwise polished look. Dark socks such as navy, black or brown are best. Over-the-calf socks are much better than shorter styles. Coordinating your belt with your shoe instantly pulls your look together. Lastly, going without socks is never appropriate in a business setting, ever!