March 30, 2012 2:47 pm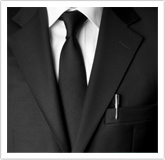 Sport coats and blazers are important staples in anyone's wardrobe. Dressing up a pair of jeans and a t-shirt with a nice sport coat is a very easy way to look casual, yet polished. In order to keep your sport coats and blazers in their best condition, consider these three suggestions:
Daily Maintenance – Brushing and Airing Out Your Jackets
Take 30 seconds out of your day and grab a clean brush with stiff bristles to clean your sports and coats blazers after each wearing. This will remove any particles that settle on the outer layer of the jacket. If not done, the dirt can settle into the fabric and damage it as it decomposes. It can also attract insects to your coat. Doing this simple task can double, if not, triple the time between visits to the cleaners!By airing your suit for about 24 hours before putting it away will help dry moisture and rejuvenate the wool since it is a natural fiber.
Alterations – Make Sure to Keep the Stitching Intact
Have you noticed some loose threads at the seams or buttons that need tightening? Neglecting these things can make the problem get worse. Get your sport coats or blazers professionally repaired as soon as possible. Having these problems add up over time will end up costing you more time and money. You might even need to replace these items if you put this maintenance off too long.
Hangers and Storage – Put Your Coats in the Proper Place
When storing your sports coats and blazers, it is important to consider what type of hangers you are using. Wire hangers can permanently damage your jackets by creating creases that are very difficult to remove. Wood suit hangers (1/4 inches thick and 1+ inches thick at the shoulders) are highly recommended for this type of garment. They are guaranteed to keep your suits crease-free and you looking your sharpest!
When it's time to put away your jackets and blazers, try to find a cool, dry, clean and dark environment. This will protect them from bacterial growth, UV damage and discoloration. The length of storage is important to consider as well. If planning to hang a sport coat for longer than a month, consider placing it in a breathable garment bag to prevent dust settlement. If you are running out of room, please try our seasonal storage program, Anton's Closet. We store your clothes for free. You only pay for the cleaning.