March 30, 2012 2:40 pm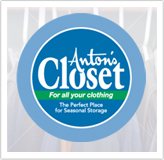 Regardless of how much storage space you have, it never seems to be enough. That's why we'd like to introduce you to Anton's Closet. We clean your garments and household items, place them in our dust-free, temperature-controlled facilities where they will stay until you let us know you want them in the fall. The service is free – all you pay for is the cleaning.

Click here to learn more.