March 1, 2012 10:01 am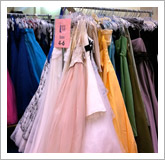 Anton's award-winning Belle of the Ball prom dress donation drive is in full swing. Now through April 1st, go through your closets and donate dresses that are in good shape and in current style at any of Anton's 42 locations. You'll be helping deserving young women go to their proms in style while lightening up your closet for spring.
For those of you looking for tips to help special girls in your own life get ready for prom 2012, here are some handy prom dress shopping and style tips:
Selecting your Dress
Be your own stylist – Look through magazines and peruse website to get ideas. Create your own "look book" by cutting and pasting the styles, accessories and hair styles that resonate with you. Use this process to guide your gown selection and overall look. Many Hollywood stylists start the red-carpet planning process with their A-list celebrity clients much the same way!
New doesn't always mean better – Shop in your own closet (or someone else's!) before heading to the mall. For instance, many closets have little black dresses that can be glammed up for prom. Although bright, bold colors are definitely in for prom 2012, black never goes out of style because of its versatility. Try pairing an age-appropriate black dress with a white shawl, pearls and strappy black sandals for a winning look. Also, check out consignment and thrift stores for one-of-a-kind dresses and unique accessories. After all, recycling is very much in style!
Set yourself up to succeed when shopping – If you do decide to head for the mall, pick a day well before the prom to visit and see what looks good — pressure free. It costs nothing to try different styles and it can be fun with a few friends and nice comfortable dressing rooms. Dress in easy on/easy off clothing and cut down on the amount of make-up you wear to try dresses on. Also, limit your shopping trips to three hours or less at a time. Long, shop-'til-you-drop sprees usually lead to impulse buying, exhaustion and frustration.
Ask the sales person about the store's return policy – Finally, it is usually easier to return at a large department store. They generally have more liberal return policies while specialty stores and outlet stores often do not accept returns or issue credit only.
Prom 2012: What's in Style
Bright, Bold Colors – Pastels are out, bright orange, pinks and yellows are in.
Short, Poufy Skirts with Tight Bodices – Show off a toned upper body with this flirty, retro look.
Tulle Overlay – A great accent on the skirt component of both long and short dress styles.
Shiny and Shimmery – Sequins, rhinestones and jeweled embellishments are the current rage.
Off One-Shoulder – Sport with a sophisticated up-do for classic, Hollywood style.
Open Back – A dramatic way to show off toned back muscles.
Asymmetrical Hems – The best of both dress worlds – long in the back, short in the front.
Feathery Details – An alternative to sequins and rhinestones for funky fashionistas!
Accessories Checklist
Shoes – Closed-toe and open-toe options both work. Stilettos are most prevalent: ballet flats can work with some styles.
Hand-bags – Simple "clutch" bags typically compliment prom fashions best.
Gloves – Short and long styles can bring a dress to new heights of fashion.
Earrings – Big, bold earrings work well with bare necklines; simple hoops and studs compliment delicate, chain necklaces.
Necklaces – If you choose to wear one, be sure it complements the weight and neckline of your dress (i.e. delicate fabrics work best with a simple chain necklace: a strapless gown with a tulle overlay may call for a bold, signature necklace to balance the tulle and fill in the neck). Long, layered necklaces, can add a lot of style to long, sleek dresses with little or no other embellishments.
Bracelets – The more the merrier this season so stack them on!
Rings – Over-sized cocktail rings add whimsy and Hollywood style.
Undergarments – The right bra can make or break your dress. Be sure it is a priority to get the proper bra and any other support garments that will flatter your figure and your dress.
Hosiery – A nude leg looks best this time of year and lets colorful gowns stand on its own. Forgot hosiery or purchase nude-colored hosiery. Hosiery with built in support can also aid in the quest for a flattering fit.
Flatter Your Figure
Full Bust – "V" necks and strapless dresses with ample built-in support flatter a voluptuous bust best. A well-placed necklace can also bring the eye up to the face, away from the bust, if that is what you desire.
Small Waist – Dresses that are belted with a sash or other tie at the middle are terrific for showing off a slim waist. This design element can also draw attention away from other areas of your figure that you might be looking to camouflage like fuller hips.
Small Bust – Layer, layer, layer! And seek out dresses with ruffles, padding and other embellishments at the bust-line. Dresses with an empire waist (i.e. the waistline is gathered right underneath the bust) were designed for you!
Heavy Legs – A full-length dress is an obvious choice. If you want to go shorter, be sure the bottom of the dress lands just below or just above the thickest part of your calf, thigh or knee. A dress with a full skirt will hide unwanted weight in the legs and thighs.
Thick Upper Arms – A "fluted" sleeve (i.e. one that flares away from the arm) that ends at or just above your elbow can balance out a thick upper arm. A halter neckline (the design naturally slims the arm by drawing the eye away from it and towards your face) is a good choice when you pair it with a shawl wrap.