March 30, 2012 2:50 pm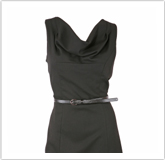 Dresses can be fun, flattering and a no-brainer on days when you don't want to think about coordinating an outfit. They can be ultra-casual, such as a sundress or beach cover-up, or make the most formal of statements when heading down the aisle to say "I do."
Dresses can also work well as professional attire when they are coordinated to set a business tone. They offer a nice change from traditional business suits and separates, especially this time of year.
Because dresses are not the easiest garment to fit, (i.e., your proportions are different on the top and bottom, you are well endowed or carry weight through your mid-section) you do need to pay attention to the styles that will fit and flatter you best. Classic sheaths, A-line designs and wrap dresses never go out of style because of their timeless appeal and the fit options they offer to various figure types.
With these thoughts in mind, here are 5 fresh tips to help you incorporate the dress trend of the moment into your wardrobes this season – hope they make navigating the dress rack a little easier – enjoy!
Beyond the LBD – While the LDB (a.k.a. the little black dress) is where we often start our dress collection journey with our private clients (you just can't beat the night and day versatility), other solid colors such as red, coral, yellow, navy and white offer a fresh twist on this classic favorite and can brighten up your wardrobe for spring.
To Print or Not to Print –Printed dresses are not created equally, especially for professional situations. Subtle, smaller prints work on most body-types and sizes and tend to be more office appropriate than bigger, louder prints. Wearing a solid color cardigan or jacket over bolder prints is one way to tone them down for work. A good rule of thumb to follow is that prints much bigger than your fist tend to be too bold for many work situations.
When in Doubt, See a Tailor – A skilled tailor can often perfect the fit of a dress and is worth seeking out before snipping the tags off a dress that you are not sure about. For instance, if the lower half of your body is slightly bigger than the top half, a sleeveless sheath dress in a size that fits through the hips can be taken up at the shoulder to perfect the fit through your upper body. Many of our petite customers also benefit from this style trick if they are interested in a sleeveless dress that is not offered in petite sizing.
Become Your Own Artist – The dress provides a wonderful canvas upon which to accessorize like crazy. Long layered necklaces complement the vertical line of a dress well as do long scarves. If you'd like to show off your waist, a skinny belt at the waist of a simple dress is a good choice. Thicker torsos can often be camouflaged with thicker, wider belts that hold you in. Of course, jackets, cardigans and a variety of shawls and shrugs also add individual style to dresses.
It's a Wrap! – Finally, our dress tips would not be complete without mentioning the wrap dress. Those made of matte jersey define the waist, flatter a variety of bust-lines and hug the body instead of clinging to it. The deep V- neck elongates the neck and the slanted vertical line created by the wrap slims the body. If you are well endowed through the bust area and have a hard time keeping the "girls" from popping out, wear a camisole under the dress for extra coverage. It works every time!