November 30, 2011 9:27 pm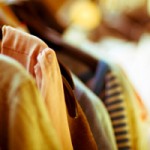 Think About Your Calendar. Before you shop, jot down the activities you'll be doing during the holidays, including any specific parties you'll be attending. Getting focused ahead of time about the types of clothes and accessories you will need to build a functional wardrobe to wear from now through New Year's will keep you on track at the store.…

Determine Your Retail Sizing. Many people settle for less than a perfect fit. Taking the time to know your correct size is one way to wear all your clothes well. Women – petite, missy, plus or some combination is as relevant when shopping for holiday clothes as your day to day wardrobe. Men – when choosing a jacket, understand which cut is right — regular, long or short. Likewise, be sure to be properly measured before purchasing any new dress shirts. There is never a substitute for a good fit!
Pick Your Base Neutrals. Black, gray, navy and olive are good holiday neutrals that mix and match well with a variety of brighter colors and prints. While not the only choice, the easiest shoe color to incorporate this time of year is black. It mixes well with all of these base neutrals, even navy!
Bottoms Up. Focus on bottoms first – dress slacks, skirts, cords and jeans if you choose to wear them for more casual holiday gatherings. The darker the rinse, the more dressy the jean. Once you are happy with your pants and skirts, add a minimum of three tops for each for versatility. Extra tip for cords: We highly recommend professionally dry cleaning cords that you want to keep for dress events. When laundered in the washing machine, they lose their shape (and holiday!) appeal.
Pick a Signature Color. To further simplify your wardrobe, consider accenting base neutrals with one hue that you love. Stock up on tops, bags, sweaters, ties, shoes and other accessories in the same shade of this color and you will get many looks with fewer pieces than you ever imagined. Red is a logical favorite this time of year as is cobalt blue.
Know Your Fabrics. For extra ease and comfort during the holidays, opt for low maintenance fabrics so you can grab, pack and go. For the fancier fabrics we all love to wear during the holidays, consult a reputable drycleaner like Anton's to help you get years of wear out of these special clothes.
Layer Effectively. Tees, camisoles, shirts, sweaters and jackets can be combined in a myriad of ways to give you climate control and a polished appearance. Remember, the office party is not the place to let it all hang out! When in doubt – layer!
Connect the Dots. Pay attention to buttons, zippers, stitching and other details on clothes and accessories as you assemble your outfits. Typically, it takes a minimum of three similar metals, colors or other details to pull a look together. Keep this in mind when selecting jewelry too.
Tie It All Together With Outerwear. Wraps, vests, parkas and traditional wool and rain & shine coats are a necessity for challenging winter weather. You'll enjoy all your clothes more when you take the time to think through your outerwear options. Make sure holiday outfits are included in this thought process.
Check Out At the Store, Check In With Your Closet. Finally, create a special place in your closet to store all your holiday clothes. Not only will these pieces be out of your way, making day-to-day dressing easier, but they will also be easier to locate and review when an unexpected invitation comes your way!