November 30, 2011 9:24 pm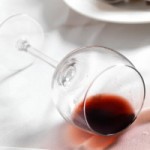 Keeping your clothes and linens looking their best this holiday season is not an easy task. Every party brings the opportunity for spills and it's important to take care of the mess before it ruins your best sweater, tie or tablecloth. Here are 5 things you should know to help keep your holidays stain-free:
Grease stains (i.e. butter, gravy, salad dressing, etc.) can be set by a hot water wash and drying – Often you can pretreat certain items with grease-fighting detergent, but some items should be professionally treated and cleaned.
Red wine stains must be neutralized for complete removal. Follow the fabric care label. In most cases you can blot or flush with water. Chlorine bleach may appear to remove the stain, but could damage the fabric.
Coffee with milk and sugar is a combination stain that if left untreated will oxidize and become permanent. Follow the fabric care instructions and don't neglect these stains.
Never delay bringing your holiday table linens to Anton's for complete stain removal, cleaning and pressing. A professional cleaning will ensure your holiday table settings look great for years to come.
And most importantly, if you or your guests drip, dribble, or drop, the best DIY stain treatment is to blot it out, NEVER rub.