October 31, 2011 9:13 pm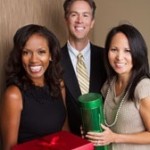 It's November. Do you know where your holiday clothes are? With professional and social parties, reunions, philanthropic celebrations and special family gatherings in abundance from now through January, taking some time early this month to organize a winning holiday wardrobe makes good sense.
Here are some easy to implement tips for storing and making the best use of all your special occasion clothes so they (and you!) will look great – one, two and maybe even ten years from now:
Devote Separate Storage Space – If you have the room, devote a separate closet for your special occasion clothes. Short on space? Hang them in a zippered garment bag specifically made for out-of-season storage in the back of your main closet. Not only will these pieces be out of your way, making day-to-day dressing easier, but also they will be easier to locate and review when an invitation comes your way.
Organize Holiday Accessories Too – Consider storing dressy shoes, evening bags, fancy hose, evening shawls, holiday scarves and special jewelry together so they, too, are protected and easy to locate when you need them.
Shop in Your Closet First – Pulling out all the black pants, black skirts and simple black dresses out of your closet is a great first step for planning a simple holiday wardrobe. Using a rack or even your bed to lay out these items with festive tops and jewelry combinations will allow you to see what you have before you spend more on holiday attire. When you have the basic outfit together, place shoes and boots with each outfit and decide if they work or if you need anything new. Often times, new shoes and a new bag are all it takes to give holiday clothes an updated look!
Revisit your Jewelry Box – This season it's all about long, layered necklaces, big, bold earrings and well placed pins and brooches. Chances are some of the jewelry you've had for years but never knew what to do with, will have an opportunity to shine now. Layer long necklaces with short necklaces and mix pearl stands with chain links until you land on just the right combination. Not much of a necklace person – no problem. Vintage pins look nice placed at the neck of a dress or in their more traditional spot — on the lapel of jackets and/or coats. If you prefer a clean neckline, large earrings left over from the 80s could work, depending on the outfit!
Get Festive with New Buttons – Adding festive buttons to a favorite jacket or sweater may be all it takes to cost effectively get you ready for a last minute holiday invitation. Visit a local button store to review all the options. We do this on behalf of our private clients all the time with excellent results!
The key to successful holiday dressing is not necessarily having a closet full of clothes. Rather, it's about having the right base pieces and knowing how to dress them up in a way that is appropriate and makes you feel confident as you head out to a myriad of destinations. Of course, partnering with Anton's to have special fabrics cleaned and cared for is also part of ensuring that your special occasion clothes work for you for years to come!