September 30, 2011 3:44 pm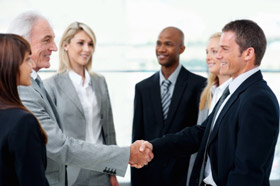 Whether you are a business person, community leader or just someone who likes to show up in a way that makes others feel good, this month's featured article "The Look of Leadership" is designed to make the case for why professional image standards matter.
Here are 5 strategies we frequently use when coaching executives interested in using their image to enhance their leadership skills:
Dress above industry standards – Overly casual dress codes are for amateurs. The term "business casual" is actually an oxymoron when used to express a style of dress. We advise leaders to think business first, casual second – or never – if it doesn't serve them well.
Appear effortlessly pulled together at all times – When it comes to managing your image, what you do behind the scenes is critical to showing up to a myriad of situations confident and pulled together every day. Seasonal shopping appointments (including tailoring), standing appointments with skilled stylists (including those who specialize in wardrobe, hair, make-up and skincare) and regularly using a reputable drycleaner are not indulgences when they are an intentional component of creating a professional presence that delivers results for you and your company.
Fit in While Standing Out – A well-chosen watch, a designer tote that is organized and functional and a fashion-forward coat in a cut that sets a business tone are three examples of how we have added fashion and style to the professional image of executives working in more conservative industries. These men and women consistently tell us having one or two stylish accent pieces makes the business basics they need to have in their wardrobes less boring and more enjoyable to wear on a day to day basis.
Come across at ease = perceived as approachable – When your clothing fits you well, is appropriate for business and sets good business boundaries, you feel more comfortable in your own skin. When you are more comfortable with yourself, others are more comfortable in your company. It really is as simple as that!
Sets the tone for what is expected from others – If you are struggling with a workforce that is overly causal and lax in their appearance (and attitude!), a good way to start to reverse this trend is to enhance your own style of dress. For example, if you hardly ever wear a jacket, start wearing one. Blazers and sports coat tend to instantly communicate a higher level of expectation from others you interact with both on and off the job. Jean days are another trap for leaders. Jeans are generally perceived as the lowest pant choice on the professional food chain. Remove them from your wardrobe if you are looking to send a subtle yet significant message that standards are changing!