Full Closet?
Use Anton's Closet. It's Free!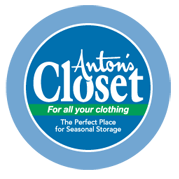 We'll place your clothes or household linens in a secure and dust-free environment at no charge.
We make it easy. Just bring your garments to any of our locations. When you're ready for your off-season wardrobe, just call us. We'll have your clothes freshly pressed and ready for you.
All you pay for is the cleaning. There's no charge for Anton's Closet service.