Get great-looking clothes…
Without ever going to the dry cleaner's again, and without paying an extra penny!
Get FREE Pick-Up & Delivery at your home or office
No extra fees, guaranteed (you pay the in-store prices)
Always look your best in professionally dry-cleaned clothes
Convenient service at your front door, even if you're not home
Save time & gas by letting us do the driving
Get special savings, including a $5 reward for every $100 spent, 2 free VIP Express bags, and 50% off monthly coupons*
Satisfaction guaranteed 100% from Anton's Cleaners, a name you can trust for over 100 years now
You do not need to be home!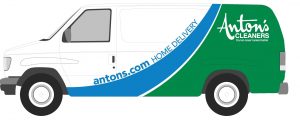 Studies show it takes the average person about 45 minutes a week to go to the dry cleaner's. Imagine what else you could do with that time if you just let us do the driving for you.
You'll have more time to spend on the important things in life—like family, work, and friends!
(Not to mention all the extra gas money you'll save.)
Ready to Get Started? Sign Up Now!
*Must sign up for VIP eBenefits
Real Local Facebook Reviews:
When asked what they liked most about Anton's Cleaners, Facebook fans rated VIP Express tops.
"Love the 24- hour drop and the VIP access. Awesome idea."
"Love the convenience of being a VIP – easy drop-off and pick-up."
"I love the drop off bag I get from Anton's Cleaners as a VIP and the convenience of putting it in the 24 hour drop box."