Suits are a wardrobe staple for both men and women. When it comes to buying a suit, you generally invest in something of good quality because you plan on wearing it for years to come. A well cared for suit can last for several years, looking as good as it did the day you bought it.
Here are a few tips that can help extend the life of your suit:
Make space in your wardrobe to allow your suit jackets to hang nicely without creasing.
Use a good wooden hanger to store your suit. A cedar wood hanger will also work as a repellant for predators, such as moths, and absorb moisture.
Refrain from forcefully rubbing on stains or dirt, as this could embed it into the fabric.
Don't overload your pockets, it will strain the seams.
To limit the amount of pull on the fabric of your suit, unbutton your jacket and slightly pull up your pants/skirt when sitting down.
Use a clothes brush to brush the suit after wearing. This will help remove dirt and lint buildup and rejuvenate the wool, preventing it from shining.
If the weather is rainy or humid, wait 24 hours before hanging your suit in the closet. This will help dry up any moisture.
To ensure color consistency, clean all of the pieces of your suit at the same time.
Be conscious of how you carry a briefcase, purse, or backpack, as the weight can cause the fabric of your suit to shine and distort the shoulder pad area
See more Garment Care tips »
Dress shirts are a staple in most wardrobes.
It is important to understand how to care for them and what fabrics are the right choice for your lifestyle:
Natural fibers such as cotton and silk breathe well and are good choices for the warmer months. Although silk is higher maintenance than cotton. The higher the percentage of cotton, the better the shirt will breathe, so, if you perspire heavily, cotton is your best choice.
There is no right or wrong answer when it comes to starching shirts. However, there are variables on how a shirt takes on starch. The thickness and weight of the fabric will determine how much starch the shirt will hold. Poly blends do not absorb starch at the same rate as 100% cotton, therefore, you may notice a difference in stiffness depending on the type of shirt.
Collars and cuffs are either sewn, which have a softer feel, or fused, which are stiffer. While sewn collars tend to wrinkle or crease more, fused collars shrink more and hold more soil. While your personal preference should govern, check the quality of construction at the time of purchase.
There are several conditions that can shorten the life of shirts:

Heavy beard or five o'clock shadow rubbing on the collar
Use of cologne, without immediate washing and attention
Watchbands and jewelry that fray cuffs
Heavy and regular use of starch
Deodorant (be sure to rinse out perspiration as soon as possible)
Lack of rotation (shirts are meant to be worn once every two weeks)
Wearing shirts more than once without washing (biggest reason for ring around the collar and dingy-looking shirts)
See more Shirt Laundry tips »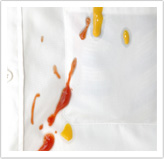 Chances are that you've already broken out your entire summer wardrobe and you're going to a cookout in the near future. We've all experienced the unhappiness of noticing a ketchup or mustard stain on that brand new polo shirt.
Here are 5 Tips to remove common BBQ stains:
Mustard – We list this one first because it's one of the most challenging to remove. Make sure to carefully wipe off as much excess as possible. Soak the area with cold water immediately. You can pre-treat with a stain remover, but double check the clothing care tag. Wash the pre-treated garment in warm water as soon as you get home.
Watermelon – Luckily watermelon is made mostly of water and you can usually remove this stain by immediately dabbing it with a wet towel. Absorbing the pink watermelon juice with a paper towel before you finish with a damp towel is often an effective way to get the stain completely out.
Ketchup & BBQ Sauce – Put a paper towel or napkin over the stain and from inside the garment, flush the stain with some cold water to get most of it on the napkin or paper towel. Depending on the fabric of your garment, consider pre-treating the stain with some liquid laundry detergent and let it sit for a few minutes. This will help break up the stain. Rinse well with more cold water and then put it in the wash.
Iced Tea – An iced tea stain doesn't get into the fabric as quickly as hot tea does. Take a clean ice cube and rub it on the stain. Pat the area with a dry paper towel or napkin.
Buttered Corn – You will need to address that oil stain as soon as possible. Put some sugar on the stain and pat it with a napkin or paper towel to help absorb some of the grease. Let it sit and then brush off the sugar. If the garment is machine washable, pre-treat the stain with a liquid stain remover or detergent. After checking the clothing care label, wash in the hottest water possible.
Note: Always make sure to check the manufacturer's label before treating a garment. When spotting a stain, be sure to use a white towel. If you stain any garments that are dry-clean only (such as silk or other delicate fabrics), be sure to consult with your dry cleaner before trying at-home care.
See more Emergency Care for Spills tips »